Alternative Auto Care is proud to be a founding member of DamesBond.
When Dames Bond Dames Thrive!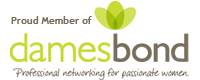 Damesbond is an all-female networking community designed to actively market the businesses and expertise of women. Hosting regular networking events, the organization helps to foster personal and professional relationships and give woman opportunities to share their expertise through various avenues including expert articles on the Damesbond website, speaking engagements and a free on-line business directory. Damesbond works to bridge the gaps between women in business, successful entrepreneurship and the ability to leverage resources, helping women to make connections with consumers, other business women and the community at large.
At Alternative Auto Care, we know that community is important. We believe that businesses have an obligation to give back to their local communities. We are proud to support local organizations in a variety of ways. We are happy to serve as a donation site for local car donations. If you are considering donating your car to charity – we can help! Give us a call for details.
Below are links to some of OUR favorite charities. We encourage you to support these and other local organizations to the extent you are able. Together we can all make a better and safer world.

BRAKES FOR BREASTS

Every Month of October, Alternative Auto Care in Columbus, Ohio joins with other Independent Auto Repair Shops across the US are giving away FREE (top-quality) brake pads or shoes. The client simply pays the labor and any other added parts necessary to complete the brake job. The shops then donate 10% of the brake job directly to The Cleveland Clinic Breast Cancer Vaccine Research Fund.
Visit: http://www.brakesforbreasts.com/
The Ohio Lesbian Festival
P.O. Box 82086
Columbus, Ohio 43202
Visit: www.OhioLBA.org
The Ohio Lesbian Festival is a not-for-profit, volunteer driven women only event designed to promote women's community, music and art. The Festival was founded on the premise that lesbians and queer women need opportunities and spaces to recognize and support each other, to define our culture, to find our own strengths and to be empowered. The Festival is open to all women.
City of Columbus Community Relations Commission
1111 East Broad St.
Suite #302
Columbus, OH 43205
(614) 645-1993
Visit: www.CRC.Columbus.gov
The Columbus Community Relations Commission was established to help bring civic leaders, business leaders, citizens and elected officials together on issues of ethnic, racial and cultural diversity. The City of Columbus is committed to opening the doors and neighborhoods of Columbus to every family. Through the work of the Community Relations Commission our vision of Building a Community For All can be a reality.