19 Jul

All Cylinders – A Woman's Work

Originally published in Columbus Alive, January 2007by David Lewis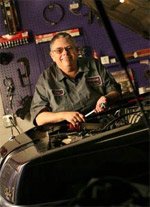 I'm afraid of garages. I admit it. My childhood memories of the garage are of my father screaming profanities and launching Craftsman missiles, which ricocheted dangerously through the air.
 As I grew, little changed that perception. Trips to the local mechanic for my own car were always fraught with men far manlier than me, covered in oil and babbling in curses and gibberish-jargon.
So it was with some apprehension that I approached Alternative Auto Care for my meeting with the proprietor and president, Chris Cozad.
Much to my relief, the garage was not only scrupulously clean, it was altogether free of flying wrenches and gear-heads. The atmosphere felt professional and the technicians were friendly and personable. I felt no pressure to chew tobacco or mumble any of the few "car words" that I know.
Every technician is ASE certified; Cozad is an ASE Master Technician and recently achieved ASE Advanced Engine Performance Specialist and Service Consultant certifications.
And Cozad is that rarity in the automotive industry: a woman.
"Less than one percent of automotive technicians are female," she explained. "I attribute that to a recruitment flaw in the industry. Women are not encouraged to master trades or vocations, and it is unfortunate, because the mastering of a trade is a great way to achieve financial equality."
 Cozad, who also teaches automotive repair at Columbus State Community College, has been in the industry for 25 years, the last 24 of which were spent operating her own garage.
"Any independent garage that has been around for 25 years is doing something right," she said with a smile. "Sure, at first it was kind of a novelty 'powder-puff garage.' But the shock value has worn off and it is much more accepted now."
 As an established face in a highly competitive industry, Cozad has seen a lot of changes. The percentage of female technicians has doubled over that period of time: from 0.4 to nearly 0.8 percent. Her classes at Columbus State occasionally have a few female students, but then, as she said, "I am not in charge of recruiting."
 Cozad attributes her success to her customer service. "It's just how you treat people," she said. "I value the opinions of my customers, and I respond to their questions."
 "The customer drives that car every day," she added. "They are full of valuable information that they may not be able to articulate. Our job is to ask the right questions. Not only does that foster trust in the relationship, but it helps us accurately diagnose the problem, so there are no costly surprises later."